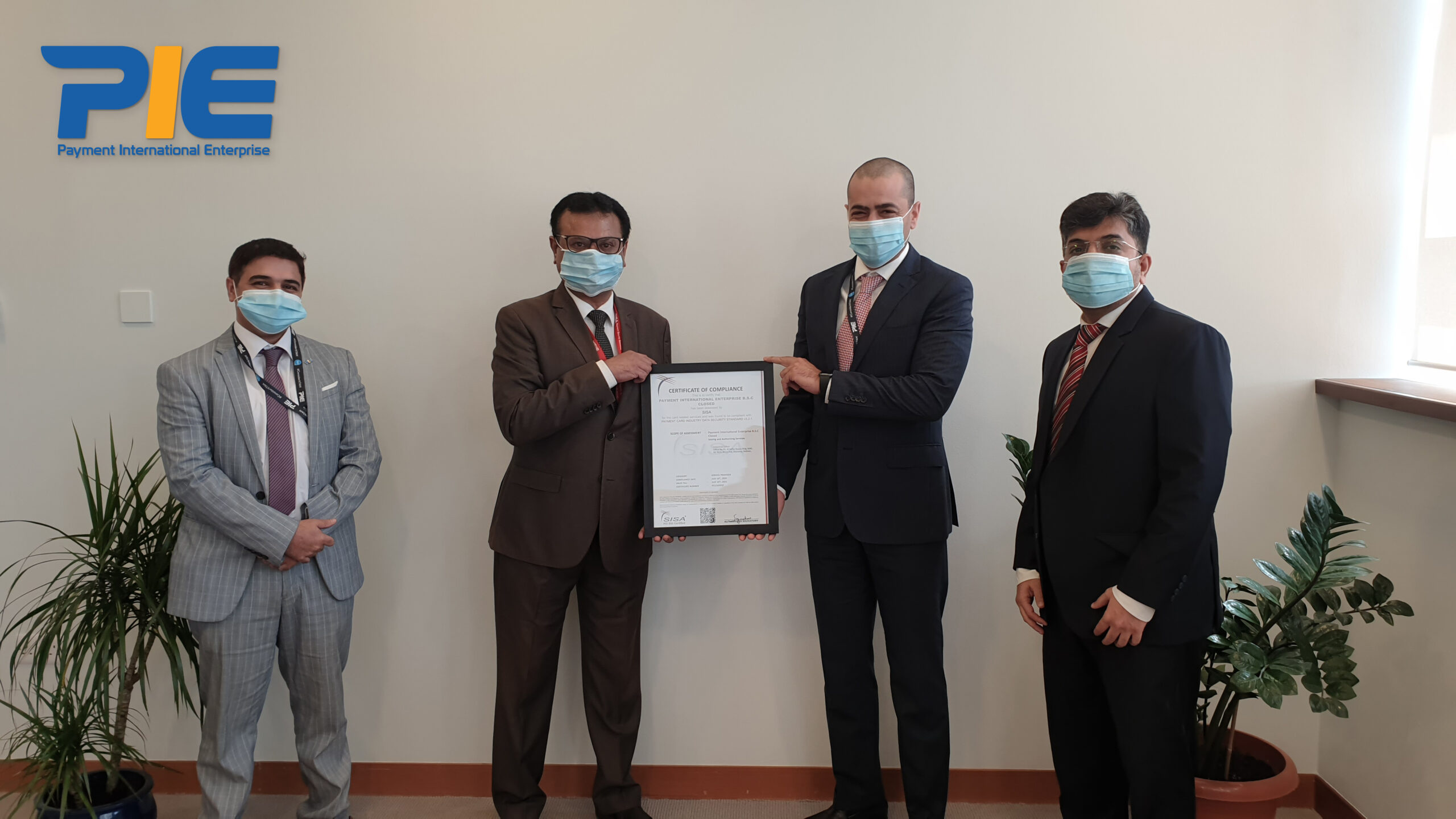 NEWS Payment International Enterprise attains a new height of payment security with PCI DSS 3.2.1 certification
Payment International Enterprise, one of the Kingdom's largest FinTech companies has successfully attained the PCI DSS (PCI Data Security Standard) Compliance Certification. With this recent accomplishment, PIE has consolidated its position as one of the most secure business enabling platforms in the Kingdom of Bahrain. It displays PIE's commitment to enhance its continuous security efforts towards customers and partners. Security has been placed as a top priority within Payment International Enterprises operations and payment platforms.
PIE is also a licensed PSP "Payment Service Provider" by CBB "Central Bank Bahrain", a Card Issuer, an e-Money and e-Wallet Issuer, and an acquirer. PIE acts as a FinTech enabler in the market, offering services to other businesses to empower their customers and digitize their operations. After being positioned in the market as a leading FinTech company in Bahrain, PIE has ensured security and is compliant with all PCI DSS requirements.
In addition to the services offered by PIE, Bahrain's only e-Money issuer for the Government of Bahrain "TAM Dinar". Recently, PIE has launched it Wage Protection System to the unbanked and underbanked segments of the population. The PCI DSS certification reiterates PIE's commitment to a proactive security approach, which focuses on maintaining compliance with the highest international standards. It also reaffirms its efforts towards Bahrain vision 2030, cashless society initiative, and government digitization. Being at the forefront of driving cashless payments in the MENA region, security is always the top priority for PIE.
CEO of Payment International Enterprise, Fawaz Ghazal with full gratitude stated: "Security is of paramount importance in financial services, ensuring compliance with international standards provides our customers with trust and confidence in our services. PCI-DSS is the baseline and we at PIE strive to reach the highest of security standards" 
Mr. Muhammad Haroon, Head of Information Security at PIE stated "The attainment of PCI DSS 3.2.1 compliance standard is in line with our client centric approach. For us getting PCI DSS certification is more than a tick box, it demonstrates our commitment to ensure the financial security of our customers and their critical information through our secure infrastructure and stringent internal processes."
SISA worldwide CEO and founder, Mr. Dharshan Shanthamurthy, said, "Congratulations to Payment International Enterprise B.S.C Team on achieving PCI DSS certification. Payment International Enterprise B.S.C has now laid an excellent foundation to be vigilant and ready to face any security eventuality. When organizations invest their time and expense of attaining such coveted compliance, we understand how much they value their customer data security.