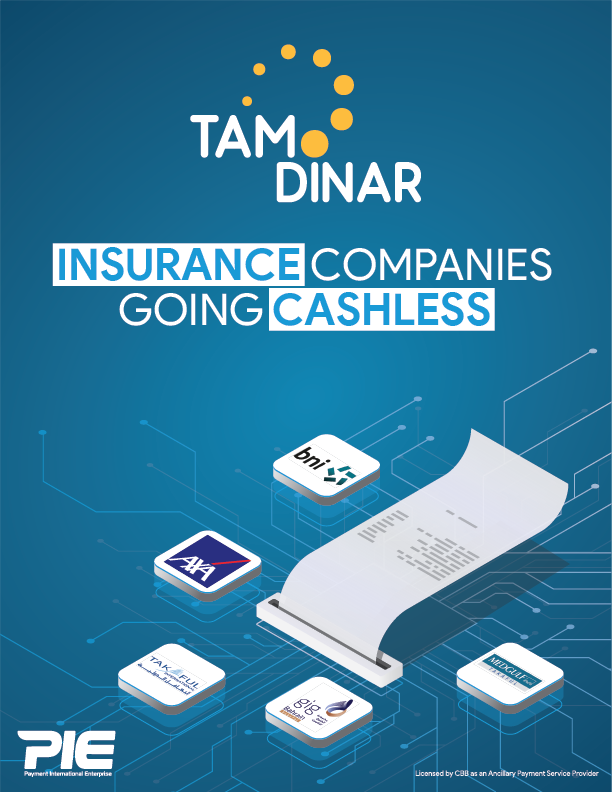 Payment International Enterprise drives digital transformation within the insurance industry with TAM Dinar
Insurance organizations in Bahrain such as AXA Insurance, Medgulf Takaful, Bahrain National Insurance (BNI), Bahrain Kuwait Insurance Company (BKIC) and Takaful have gone cashless with TAM Dinar. This is in line with the sector's overall strategy to embrace digital transformation as part of their new direction to digitize and go cashless. TAM Dinar, which is Payment International Enterprise's (PIE) licensed product has over 30 entities currently using the service and paving the way for others for a digital future. TAM Dinar launched in 2016, as one of PIE's major cashless initiatives within Bahrain. It was adopted initially by the General Directorate of Traffic Services, and several other governmental and commercial institutions that have embraced the solution for its seamless experience.
The insurance industry in Bahrain has been growing steadily and strongly, in line with expansion of Bahrain's financial sector. The Kingdom's insurance industry is taking major steps towards digital transformation; which allows insurance companies and insurers real and tangible advantages for reducing costs, increasing efficiency in the claims and improving customer satisfaction. TAM Dinar allows insurance corporates to embed a seamless way of operating, which enhances their customers' experiences in an age where individuals demand simplicity, easier access, and flexibility from their insurance providers. PIE supports businesses by allowing them to innovate whilst a cashless economy is on the horizon. PIE's solutions allow corporates to optimize their operations and adapt to changing consumer demands.
Additionally, TAM Dinar will allow major players in the insurance sector to adopt a highly secure method of handling daily operations for compliance, help in keeping track and make it easier to track irregularities. In addition, it reduces the time required to wait when paid via cash or a banking instrument like cheque.
TAM Dinar is utilized by public and private entities within the kingdom, who have gone cashless utilizing PIE's innovative solution. It consists of a payment receipt issued from PIE's kiosks that can be used to pay in institutions adopting TAM Dinar as a cash alternative, without the hassle of managing cash. PIE is then responsible for the collection of cash, reconciliation and settlements, thus alleviating all the cash burden on the companies.
Fawaz Ghazal, CEO of PIE, stated "for the insurance sector, going cashless is a business priority. Most organizations are very aware that choosing the cashless path should be at the heart of what they do, and the engine of the industry as a whole. These strategic partnerships pave the way for others and will lessen their dependence on cash. PIE has always been at the forefront transforming industries and working towards Vision 2030 to create a digital future for all."
Nicola Bell, CFO at AXA Insurance Gulf commented "We continuously explore transformative solutions for better processes which are secure, simple and convenient for the customer. Our collaboration with PIE has clearly helped us to manage a secure collection operation and provide an enhanced customer experience through the convenience of secure deposit and instant receipt." Bahrain Kuwait Insurance Company (BKIC) representative "Partnerships of this nature is a great example of growth for the Industry. It moves our customers closer to a digital world and goes towards our initiatives that are being undertaken to promote a cashless economy. We look forward to having a more streamlined process and offering this solution to our valued customers."