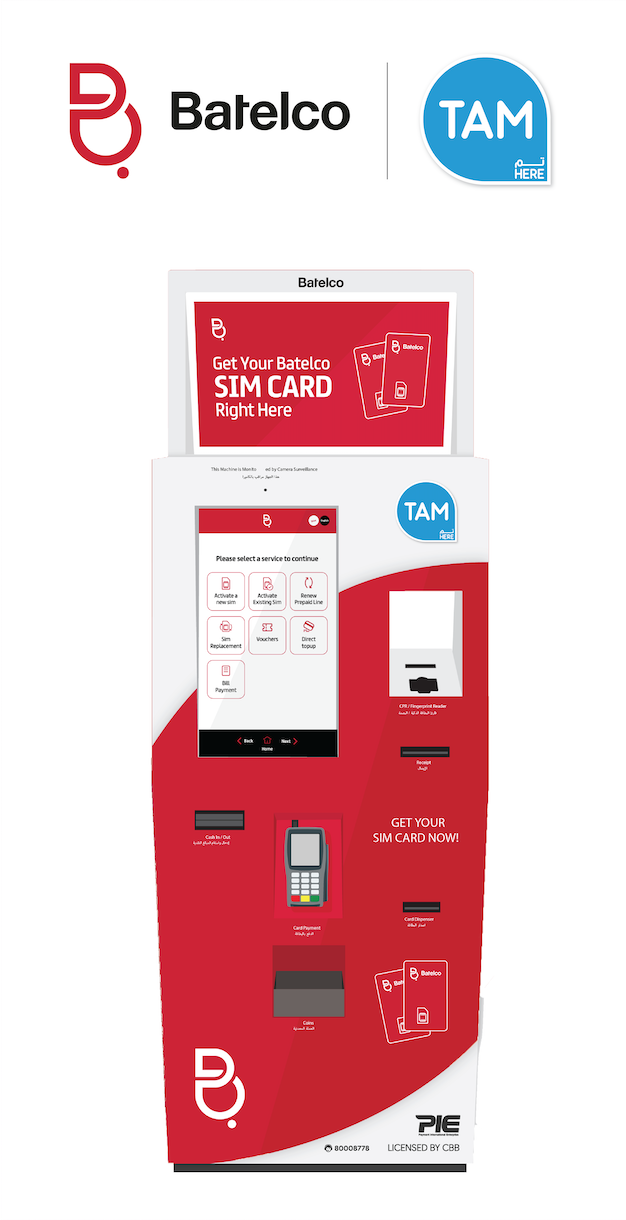 (PIE) partners with Batelco to launch Digital Kiosks
This service has allowed Batelco to add all their services on TAM Kiosks and further ease their operations for completing transactions quickly (Batelco Digital Kiosks)
PIE is A leading FinTech company in the Kingdom
Payment International Enterprise (PIE) has partnered with Bahrain Telecommunications Company (BATELCO) to launch their first Digital Kiosks with SIM Dispensing capability on the TAM Kiosks.
Batelco digitized its services on TAM Kiosks
including but not limited to non-face-to-face eKYC & subscriber onboarding for pre-paid, and post-paid, also providing bill payments, and top-ups which can be accessed through the Digital Kiosks. TAM Kiosks accept cash payments in Bahraini Dinars and Saudi Riyals, provides cash back, and accepts debit and credit cards. All transactions are completed automatically and aligned with the Telecommunications Regulatory Authority (TRA) and Batelco's policies up to the highest standards.
PIE, one of the largest FinTech organizations in Bahrain, is licensed by the Central Bank of Bahrain (CBB).
PIE has various collaborations in Bahrain to innovate IGA, EWA, MOF, insurance companies, and major Telecom operators. PIE has direct integrations with all major billers in Bahrain and provides
self-service machines to third parties to empower businesses with fintech solutions and offer a state- of-the-art experience to their customers.

CEO of PIE, Fawaz Ghazal stated
"We are proud to be working with Bahrain's biggest telecom
company Batelco. As PIE, we are utilizing technology to empower the rest of the businesses to help better serve their customers and be part of the digital transformation. Our new partnership with Batelco allows customers to have an easy and convenient channel for service onboarding, and support at the local convenience stores and grocery stores with ease and reduced operational cost 24/7 with no human interaction , our commitment to support companies to create the ultimate digital journey since 2016 is an exciting journey specially with COVID-19 setting limitations to business
operation. I look forward to the next steps of our partnership and continue to contribute to the digital economy collectively."

Batelco General Manager Consumer Division Maitham Abdulla said,
"We at Batelco strive to provide the best solutions for our customers to make their lives easier and to bring the latest technologies, by partnering with leading companies in their field. The partnership with PIE, a leading FinTech enabler, is the perfect partnership to support our delivery of self-service solutions, by providing dispensers to enabling our customers to benefit from a wide range of services 24/7 through a seamless and convenient process while also reducing their waiting time in
retail branches."
About Payment International Enterprise

Payment International Enterprise (PIE) is one of the first and largest /fintech companies in Bahrain, licensed by the Central Bank of Bahrain as a Payment Service Provider, Card Issuer and eWallet and eMoney Issuer. PIE founders are serial entrepreneurs in the MENA region since early 1900's where they started and founded several trade, real state, pharmaceutical, financial service, and e-commerce establishments. PIE has a vast experience in distribution services and building new products and
services to meet MENA region needs for innovative, reliable, and efficient financial products for the masses. Their mission is to enhance the financial inclusion by working with banks, Telco's, and distribution networks to provide effective efficient financial services that enable customers to reduce their cash dependence.