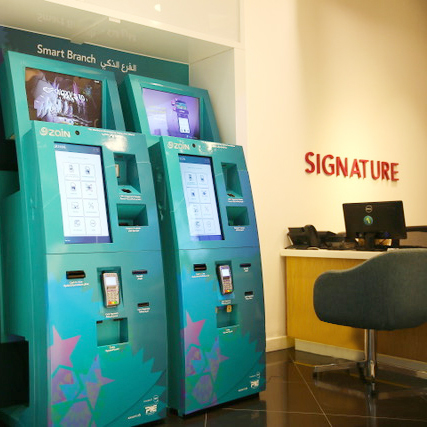 Payment International Enterprise (PIE) partners with Zain Bahrain to launch the first "Smart Branch"
Leading FinTech company in the Kingdom, Payment International Enterprise (PIE) joined arms with Zain Bahrain to launch the new "Smart Branch" project. The new self-service machine, designed and developed by PIE, allows Zain Bahrain to be the first in Bahrain to offer an interactive system, and experience that will allow consumers to complete all telecom services quickly, and seamlessly. PIE has showed a strong proof of commitment to innovation and is at the forefront of creating evolutionary products for a digitized economy.
The "Smart Branch" developed by PIE in collaboration with KeyBS DMCC, a Fintech Dynamic Solution Provider & Systems Integrator based in Dubai-UAE, aims to provide customers a completely new user interface that is intuitive and enjoyable. In line with Zain's digital strategy to provide customers with end-to-end innovation services, the integrated complete solution is a game changer in the Telecom industry in Bahrain.
In the "Smart Branch", Zain customers can purchase a new line, replace their SIM cards, generate an eSIM (QR), pay their bills, top-up their lines and view Zain Bahrain latest available devices all through the interactive screen which supports reading Smart ID cards and passports with validating fingerprint feature. In addition, all relevant information about Zain services such as pre-paid, post-paid and home broadband plans, bill payments and recharge can be accessed through the self-service machine. Moreover, the "Smart Branch" accepts cash payments using Bahraini Dinars and Saudi Riyals, gives cash back and accepts debit and credit cards as payment options as well as payments by vouchers. All transactions are completed automatically and aligned with the Telecommunications Regulatory Authority (TRA) and Zain Bahrain's policies. All relevant information about Zain services will be accessible for consumers, eliminating the need to visit a physical branch.
PIE, one of the largest FinTech organizations in Bahrain, is licensed by the Central Bank of Bahrain (CBB). PIE has various collaborations in Bahrain to innovate eGOV services and major Telecom operators. The company's milestones include IGA kiosks placed across the country in 2016 offering all government services and utility payments in a convenient way. Another previous milestone was the launch of the TAM-Dinar project for government institutions in Bahrain to facilitate ease of payments for government services. PIE has direct integrations with all major billers in Bahrain and provides self-service machines to third parties to empower businesses with fintech solutions and offer a state-of-the-art experience to their customers.
Ammar Al Ketbi, Acting Director, Consumer Marketing and Sales stated "As part of our mandate to provide the latest innovative services that deliver superior value and quality to its customers, this step is necessary as a telecom leader in the digital space. We are pleased, and proud to collaborate with PIE to launch the first "Smart Branch" in Bahrain. We look forward to the next steps to deliver a more enjoyable experience to our customers." CEO of PIE, Fawaz Ghazal stated "We are proud to be working with a leading company such as Zain Bahrain. As PIE, we are utilizing the power of technology to give other businesses an innovative tool to better serve their customers. We have re-engineered the processes to create evolutionary daily experiences that engage and connect with customers, and support companies to create the ultimate digital journey. I look forward to the next steps of our partnership and continue to contribute to the digital economy collectively."