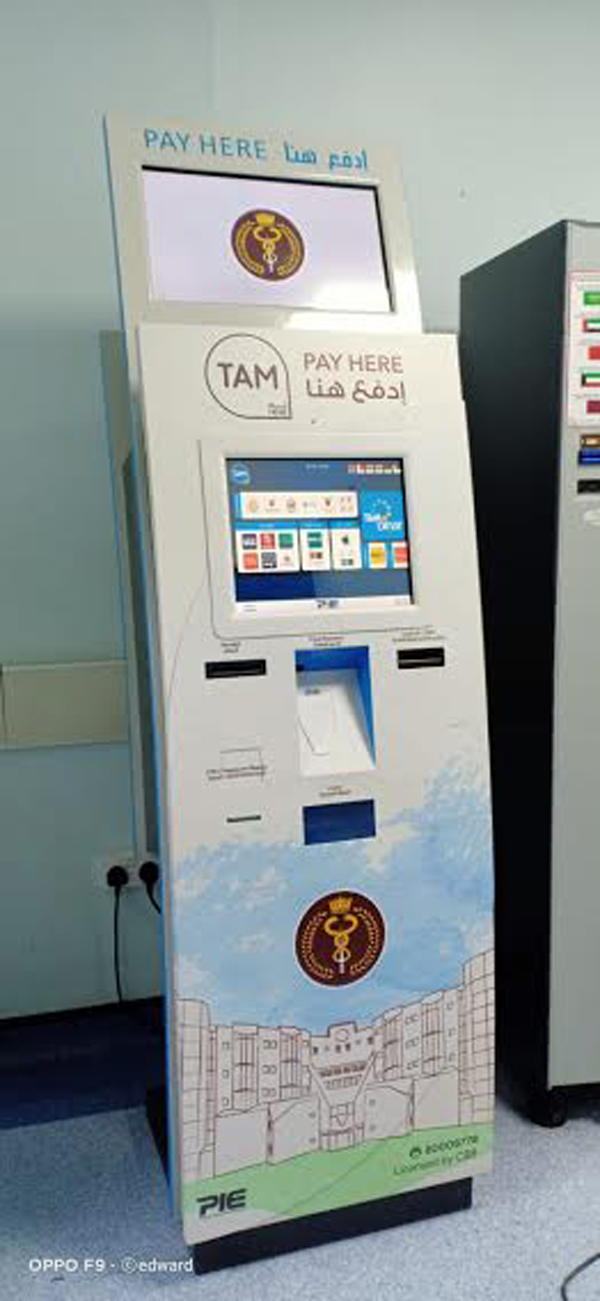 PIE partners with BDF-RMS to launch their co-branded kiosk
Leading FinTech company in Bahrain, Payment International Enterprise (PIE) joined hands with BDF-RMS to launch cobranded kiosks for their facility. 
The newly branded machine is designed and developed by PIE, allowing BDF-RMS to be the first medical facility in the kingdom to offer an experience that will allow consumers to complete payment services quickly, seamlessly and digitizing cash payments.
PIE has showed a strong proof of commitment to innovation and is at the forefront of creating evolutionary products for a digitised economy. 
PIE is one of the largest FinTech organizations in Bahrain, licensed by the Central Bank of Bahrain (CBB). PIE has various collaborations in Bahrain to innovate services for governmental entities and the major Telecom operators.
The company's milestones include IGA kiosks placed across the country in 2016 offering all government services and utility payments in a convenient way. As well as acquiring services in collaboration with CrediMax.
Another milestone was the launch of the TAM-Dinar project for government institutions in Bahrain to facilitate ease of payments.
PIE has direct integrations with all major billers in Bahrain and provides self-service machines to third parties to empower businesses with fintech solutions and offer a state-of-the-art experience to their customers.
With the cobranded kiosks, BDF-RMS customers and the BDF hospital are empowered by TAM Dinar.
TAM Dinar facilitates the hospital with electronic money to ease transactions. Moreover, the cobranded kiosks accept Bahraini Dinars and Saudi Riyals, provides instant cash back, accepts debit, and credit cards as payment options. All relevant transactions are enabled in the kiosks and is accessible to all consumers and patients, hence, eliminating the need to visit physical customer service stalls and cashiers.
Major General Prof Shaikh Khalid bin Ali Al-Khalifa, Director of the BDF Royal Medical Services stated: "We always aim to provide our patients with the safest services and the highest standards of care.
We are proud to collaborate with PIE to allow our patients to complete all payments in the safest and most efficient way possible." CEO of PIE, Fawaz Ghazal stated: "As a Fintech leader, we are driven by the challenge we continue to enrich our partners experience by providing innovative solutions specially to large clients like BDF-RMS, our partnership with Credimax has been growing specially with Covid affect and we foresee much growth in months and years to come."  Chief Executive of CrediMax, Ahmed A. Seyadi commented: "As a market leader, CrediMax is committed to driving the growth of the payments sector in the Kingdom through collaborations with esteemed FinTech organizations such as PIE and we are pleased to support them in facilitating innovative payment solutions helping to simplify the consumers' payment journey to enjoy greater convenience and security." — TradeArabia News Service