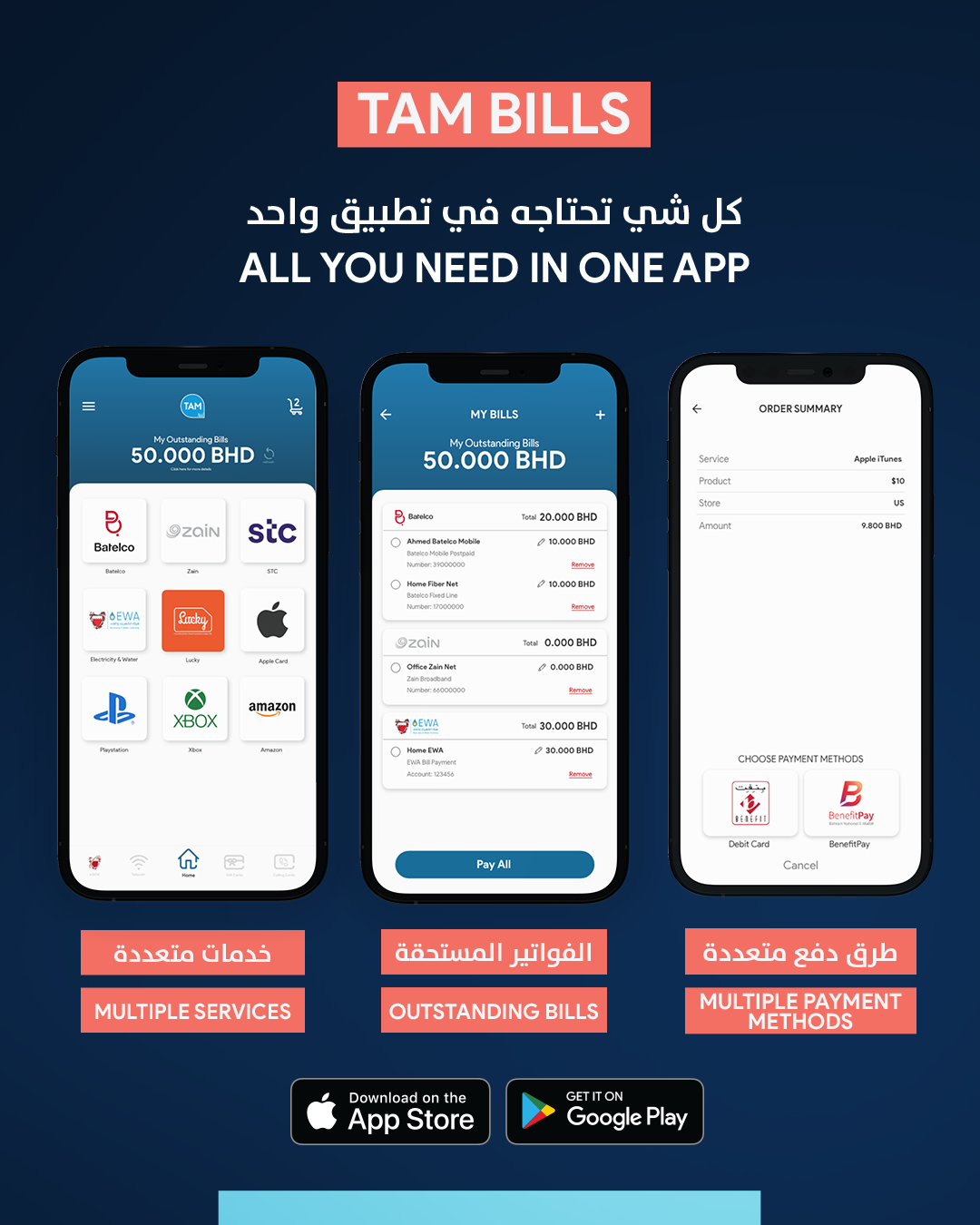 TAM Bills app launches in Bahrain
Payment International Enterprise (PIE) has launched its all-new bill payment application early 2021. This application makes it easy to take care of any bill payment that needs to be made.
"TAM" means "Done" in Arabic, and this is the promise PIE tends to keep.   There are many features available on this app, and it continues to be developed with even newer features. TAM Bills includes, Telecom bill payments, Electricity and Water Authority payments and inquiries, a variety of gift vouchers and calling cards.
It is the ideal method of getting bills out of the way, without needing to step out of the house during the unsafe times of the pandemic. A key feature of TAM Bills is the "Outstanding Bills" option.
With TAM Bills it becomes easier to track outstanding and pending bills. For users with multiple bills to pay, they can peg all their bills into the application and can pay them off all at once when payments are due and TAM Bills makes it simple for them to do so.
PIE is a leading Fintech player within the kingdom and the region, this latest milestone reflects PIE's commitment to providing a full financial ecosystem that enables a cashless society.
Payment International Enterprise (PIE) has been at the forefront sparking a wave of innovation in the Kingdom.
The FinTech innovator is licensed by the CBB as a payment service provider, prepaid card issuer, card processor, acquirer, and e-wallet & e-money issuer. In Bahrain and the region, PIE has been creating innovative solutions and services for individuals and corporates including TAM Wallet, TAM Bills, TAM Kiosk, TAM Cards, TAM mPOS, TAM Dinar, and Wage Protection System ("WPS") service.
PIE continues to bring in new innovations to henceforth push towards a completely cashless society.  Fawaz Ghazal, CEO of PIE commented: "We strive to enhance our customers lives by providing new digital payment channels that complements our self-service machines "Kiosks" and our merchant network, which is the largest in Bahrain, TAM Bills offers unique functions that settles all your bills with one click." — TradeArabia News Service